Cross-platform, open source application jUploadr lets you upload your photos to Flickr.
Of course there are already lots of ways to upload images to Flickr, but jUploadr's extensive batch editing, tagging, and privacy options, along with its cross-platform-y-ness is thumbs up in my book. jUploadr requires Java, runs on Windows, Mac, and Linux.
Applications like jUploadr are great for posting photos and editing photosets in the photo-sharing website Flickr, but its Java core can make it slow and wonky for some users. GNOME-based application Postr is a streamlined posting solution that features drag-and-drop file choosing, tag and description editing and, most of all, a clean, simple interface. Postr is a free download for Linux systems and available in many repositories.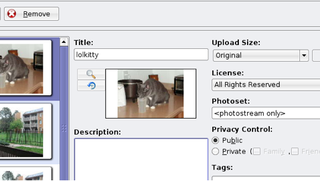 Free open-source app Kflickr gives Gnome and KDE users an easy way to upload images to Flickr. Assign the photo's title, tags, description, upload size, license, photoset, and whether the image will be public or private prior to uploading with Kflickr, which can also upload images in bulk. Kflickr can be found in most repositories under the install command kflickr.
Related: