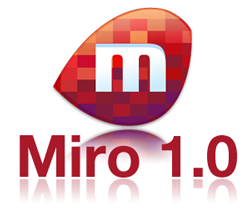 Just few days ago Miro, billed as 'Groundbreaking Internet TV software", the open and free video player, has gone 1.0, and launched in a polished, slick package for Linux, Mac and Windows. Miro (formerly Democracy Player) is the open and free alternative to Joost, Windows Media Player and iTunes for getting, watching and organizing your video. In place of DRM and proprietary formats, Miro uses the VLC video-engine to play practically every video format under the sun. It has over 2,700 channels of free content, and it uses BitTorrent to download, which means that the creators you love won't get clobbered by bandwidth bills when their videos get popular.
Miro allows you to search, subscribe to, and view any number of video podcasts. A handy guide is built right into the client so you'll never be without content, but if you can't find something that strikes your fancy there the ability to search across a number of video sharing sites is also baked right into the app.
Miro 1.0 also takes a bold stand against main competitor Joost. The revamped front door of the site has a huge banner reading "Better Than Joost." (Miro vs Joost comparison) [I personally haven't tried Joost, but liked Democracy Player]
Here's run down of some new features:
Video Format Support — Miro claims it can play just about anything, MPEG, Quicktime, AVI, H.264, Divx, Windows Media, Flash Video, and more. I've yet to encounter a file that didn't play in Miro.

Video Playlists and Watched Folders — if you aren't grabbing all your video content through Miro, just tell the app where you're storing it and it'll show up in your playlists regardless of where you got it.

BitTorrent and RSS support — Miro can download individual BitTorrent files and torrents that are in feeds and you can subscribe to any video RSS feed you like. There's even a setting to auto-download new videos whenever they show up in a subscribed feed.
Saved Search Channels — like smart folders essentially. If you search for a something specific across sites and you like the results, you can add it as a channel and new videos will appear that meet the saved search criteria.
Social site integration — Got a video you like and want to tell the world? Every video in Miro has quick links to post to Digg, Reddit, del.icio.us, and Video Bomb.
Miro is created by a charitable foundation called the Participatory Culture Foundation, an organization that also makes complimentary, free packages like Broadcast Machine (for publishing your own video channels) and VideoBomb (like Digg, but for video). The foundation pays programmers to improve the technology, and it's entirely free to use and improve.
"I love Miro because it just works, no other video on the web is like that," said John Lilly, COO of Mozilla and a PCF board member. "Miro represents a great blend between a web application and a desktop application."
Miro allows you to organize your subscriptions in channels, create playlists, and much more. Miro is available for Linux, Mac OS X and Windows. Link
Spend few hours of your this weekend trying out this great new and finalized killer application.
Miro's launch comes at a crucial time in the fight for open media. Net neutrality, media consolidation, and Digital Rights Management (DRM) are all causing controversy online. Miro comes down firmly on the side of openness.