"We see the distribution-model-with-software-collection approach as a key part of the story going forward, in terms of how we pull in the broader open source platform that is largely what defines Linux."
Project Indiana is a Sun project designed to create an OpenSolaris binary distribution that will focus on providing a single CD install with the basic core operating system and desktop environment, along with the opportunity of installing additional software off network repositories. Officially, the final Project Indiana variant of OpenSolaris is expected in the first half of 2008, but Murdock said that Sun's goal is to get it into the field in March 2008.
Currently The OpenSolaris Developer Preview is the first milestone of Project Indiana. As mentoned above it is a single CD combined live/install image: a core operating system, kernel, system libraries, a desktop environment and a package management system. It is not a final release and is intended for developers to try, test, and provide feedback.
The overarching goal of the project is to encourage the growth of the OpenSolaris eco-system. When the OpenSolaris project started, it was originally focused on developers and a source base. With the introduction of Project Indiana, a binary distribution will be a reference for other binary compatible distributions to form with the hope of avoiding the same fragmentation that is frequent in Linux. One of the project management goals of Indiana is to produce a new version of the distribution every 6 months, operating a strict time based release schedule. Many open source software communities have already adopted similar schedules and have proved to work well.
Indiana will eventually produce a distribution with a faster moving lifecycle, both from development to deployment and support. The core install CD will be freely re-distributable and network repository easily mirrored locally. While Solaris will continue to be a high level enterprise operating system with a much slower lifecycle, Indiana will be a leading edge distribution delivering a current set of best of breed software to those who may require a particular feature set and accepting the consequences of a faster moving train.
The Project Indiana preview also sports a new packaging system called Image Packaging System, which is a network-based, repository-driven packaging system akin to those available for popular Linuxes. The existing Unix SVR4 package system is also still part of OpenSolaris, too, and the IPS packager has been tweaked so it can import the thousands of SVR4 applications out there in the world that run on Solaris. Murdock says that Sun will work with application package maintainers to give them the tools so they can create IPS-compatible packages for OpenSolaris, and in fact, Sun is counting on the vast developer community to eventually make a much broader array of applications available on OpenSolaris and therefore Solaris. This approach, says Murdock, is how Debian Linux grew to support over 25,000 applications in around 14 years. "Of course," Murdock concedes, "those numbers are a little different from the usual ISV package counts, since it might contain 40 different versions of Tetris." ZFS being the default file system.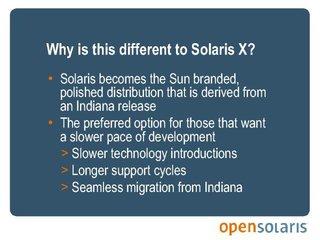 After downloading this ISO (the Developer Preview is only 629MB), the image can be burned to a disc and immediately booted. Project Indiana incorporates a "Slim Install" LiveCD for x86 systems, and GNOME as it's DE. Just like a number of Linux distributions, you can boot to this CD and start using it without ever touching the contents of your hard drive.
Sun is actively working to bring more developers into the Solaris ecosystem, and one of Indiana's goals is to make Solaris, and the features and functionality it offers, more familiar and accessible to people, Murdock said.
Check out nice preview of Indiana by phoronix.