This tutorial shows how to install x11vnc on your N800 which in return makes it possible to connect remotely to your N800 device using VNC.
I. Setting Up Nokia N800 for VNC Access Using `x11vnc`
1. Install x11vnc application on the Nokia N800. Either download the x11vnc deb package on the PC, transfer it to N800 and install it; or download and install it directly from N800.
2. You need to run x11vnc server in your Nokia N800 now. From the applications menu, go to Extras and select the x11vnc application. You can also run it from the terminal if you want to see its output messages.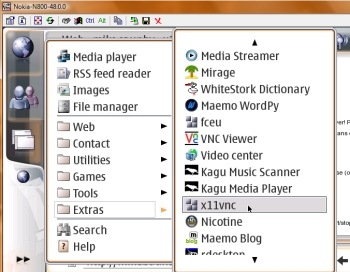 3. Next note down the IP address of your Nokia N800 device. Go to [Applications Menu] -> Tools -> Connection Manager.